I've always wanted to have a house with a fireplace. There's just something about sitting in front of a fire on a cold winter's night, all snug & cosy with a red wine and good company. Don't you think?
So when we were in the early stages of coming up with ideas for our new home, I told 'B' to put it on the list and to not even think of talking me out of it! Not that there was much resistance!
Never having looked into fireplaces before, I was quite simply thinking along the lines of a gas fireplace because it's a much cleaner and cheaper fuel to burn than wood. Does anyone even build new houses with wood fireplaces anymore?? Anyway, we even went to a local showroom to have a look at a few and noticed they started around the $5,000 mark. All good, it was a non-negotiable.
Then 'B' started to look into fireplaces a little more as he'd heard of ethanol fireplaces and even electric fireplaces. Not entirely convinced they'd look the part, I had a look at the ones he found and thought the ethanol fireplaces weren't surprisingly too bad - as for the electric fireplaces, don't even go there!
All this research took place about a year ago now and since then there seems to be so many more online sites in Australia selling them and I now much prefer them to the gas fireplaces! Our original house plans had an alcove designed to install our chosen fireplace in the Living Room and thankfully I checked just before final sign off to see if the chosen model was still available and it wasn't!! We ended up scrapping the alcove altogether and will work out exactly what we want after handover.
Advantages of Ethanol Fireplaces
VERY cheap to run (run off metho!)
They are much cheaper than gas and start around $1,000 but you can go up to gas prices
You don't need to have a flue
You can place the fireplace anywhere you want!
Environmentally friendly
No smell
Disadvantages
Don't throw out as much heat as gas or wood (although you can adjust the heat)
Our Living Room isn't a large area so we mainly want the fireplace for ambience and a little bit of warmth. For the general heating of the house we'll be using our reverse cycle aircon. Yes, the irony isn't lost on me that I'm here talking about a 'green' fireplace and in the next sentence talk about airconditioning however we'll be having top insulation in our walls & roof, eaves around the whole house and the living areas are orientated in the best position so with any luck the aircon won't be relied on too heavily.
Here are some of my favourite fireplaces at the moment...
The first 2 are from
Ambience Eco Fires
and are classed as "Gloss Polished' which I love as it gives the glass a lightly mirrored appearance for the fire to bounce around. Cost around $2,500 - $3,000.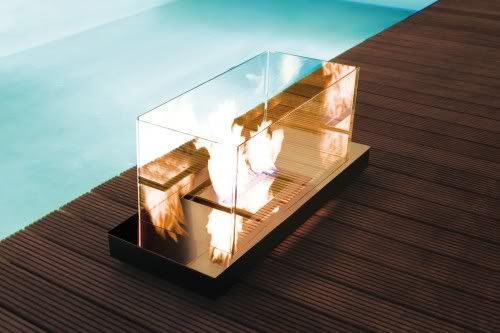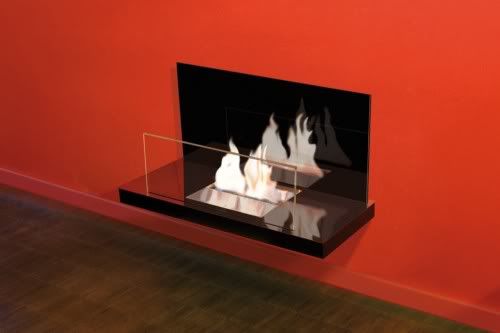 And here are some of my favourites from the gallery of
Eco Smart Fire
. These fireplaces seemed to be a little more pricey but oh so worth it don't you think?!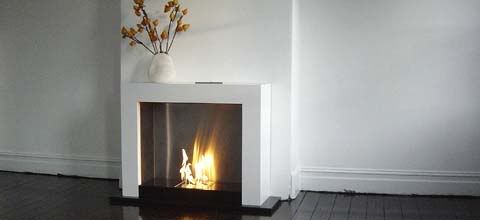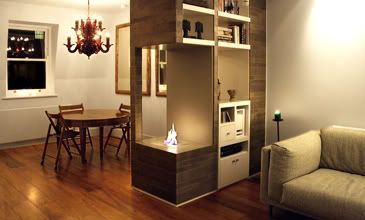 By the way if you're a little concerned about the openness of the fireplace, especially if you have little ones like we do, you can also get glass screens. Ours will most likely be used when the littlies have gone to bed anyway.